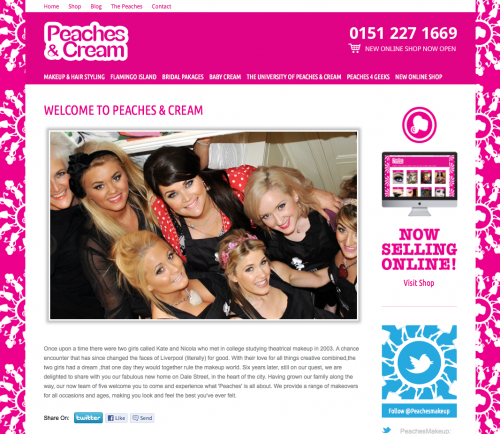 Drum roll please… the brand new shiny glittery Peaches and Cream website is now live! Liverpool's most glamorous makeup studio Peaches and Cream, based on Dale Street in the city centre provides a range of makeovers for all occasions and ages, and promises to 'make you look and feel the best you've ever felt'!
Over the Halloween weekend the Peaches team unveiled their brand new website which has full details of all their makeup and beauty services, lots of fantastic photos, and now, for the first time also includes an on-line shop! So now you can get your hands on all of your favourite Peaches goodies from the comfort of your living room.
Igoo is proud to co-present this next step in the Peaches' bid to take over the makeup world, well done girls and good luck on your mission!