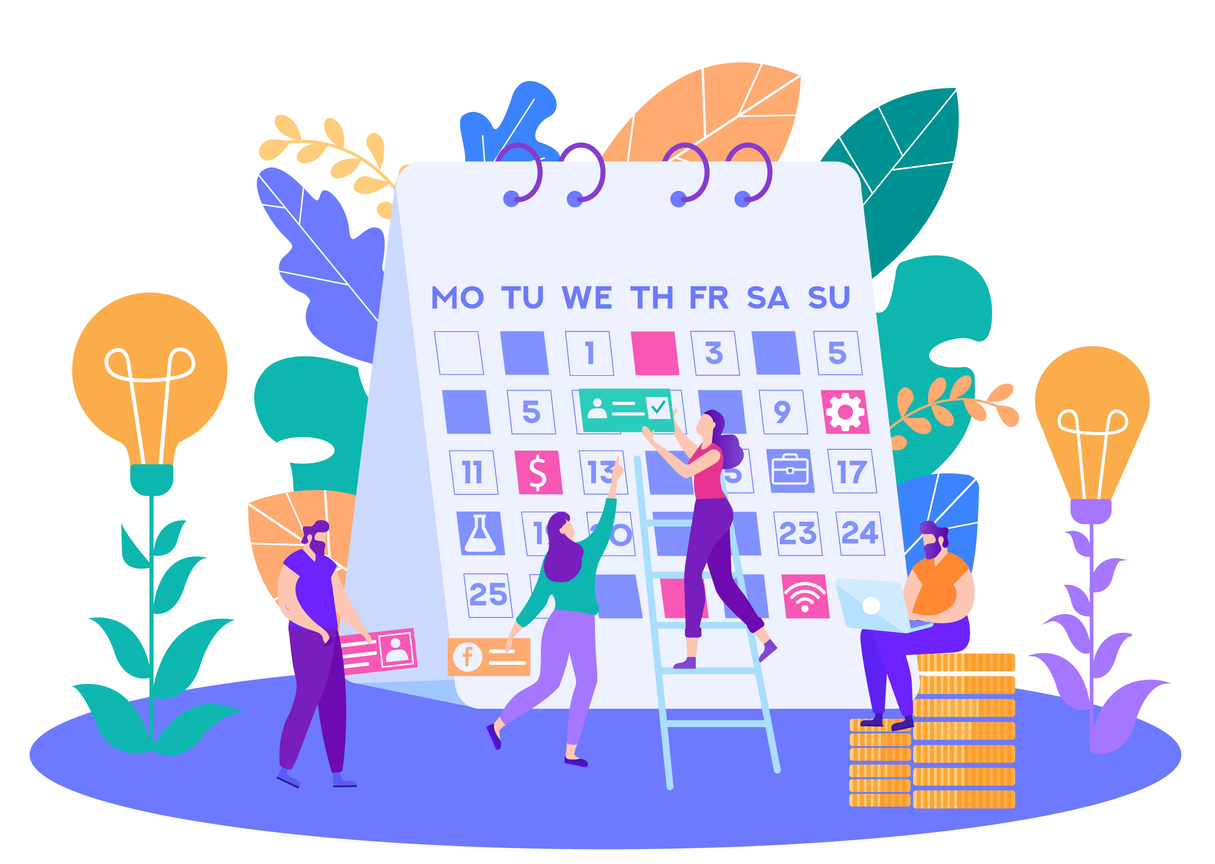 There's a lot of dates to keep track of throughout the year when it comes to ecommerce and marketing planning; whether that's UK wide bank holidays, special shopping days or just a day dedicated to chocolate (7th July) or 'National Talk Like a Pirate' day (19th September) it pays to keep track of what's coming up and how you can maximise your content to engage with your audience.
Here we've put together the ultimate ecommerce calendar to make sure you're ahead of the game when it comes to planning promotions, social media content and email marketing strategies for the whole of 2021.

January – A Month-Long Celebration of Veganuary & Dry January 
1st January – New Year's Day – and a great day for starting any January sales!
18th January – Blue Monday – Unhelpfully named as the 'saddest day of the year' due to the post-Christmas lull, the long nights and colder weather, this could be a great time to spread some joy to your customers at the start of the year
25th January – Burns Night

February – LGBT History Month
12th February – Chinese New Year – This year, it's the Year of the Ox
14th February – Valentine's Day/ Galentines Day – The perfect opportunity for your customers to treat that special someone in their lives, regardless of who it is!
16th February – Pancake Day
16th February – Shrove Tuesday
17th February – Ash Wednesday
March – Spring Officially Begins!
1st March – St David's Day
4th March – World Book Day
8th March – International Women's Day – A great moment to champion diversity and highlight any positive initiatives your brand has surrounding equality and inclusion
8th March – Restrictions start to lift in the UK – As part of the government's road map out of COVID restrictions, there are some changes to social interactions and schools set to return
14th March – Mother's Day
17th March – St Patrick's Day
19th March – Red Nose Day
28th – 29th March – Holi
April
1st April – April Fool's Day
2nd April – Good Friday – The start of the bank holiday in the UK and often a time for special discounts/offers online
4th April – Easter Sunday
5th April – Easter Monday
12th April – Non-essential shops and hospitality opens in England – If your bricks and mortar business is officially allowed to reopen this month, make sure you're promoting it as much as possible using your online channels
22nd April – Earth Day
23rd April – St George's Day
May – Wedding Season Starts 
3rd May – May Day
16th May – International Day of Light
17th May – Indoor dining & accommodation opens in England, plus events up to 30 people are allowed – Another huge milestone for those living in England and one to make sure you're promoting if this applies to your industry
31st May – Spring Bank Holiday
June – Start of Festival Season & Pride Month
Around this time of year is the annual 'Amazon Prime Day' and with more shoppers than usual hunting for a bargain online, this is a good time to be promoting your own business and any special offers you have running
20th June – Father's Day
21st June – Summer Solstice & National Selfie Day – A chance to humanise your brand and show customers a 'behind-the-scenes' look at who's running your company
21st June – All restrictions hope to be lifted in England – Many will be shopping online in anticipation of this day, especially as larger events are tipped to go ahead
30th June – Social Media Day
July – Independent Retailer Month
4th July – American Independence Day – Do you ship to the US? Don't forget their national holidays too!
17th July – World Emoji Day – 👍💃🤖
19th July – Eid al-Adha begins
30th July – International Friendship Day
August
30th August – Summer Bank Holiday – Another prime time for discounts and promotions online
September – Back to School
September is a good month to celebrate new beginnings of all kinds and is often a popular time of year for % discounts , especially on older stock
October – Black History Month
10th October – World Mental Health Day – A powerful day for sharing meaningful resources with your following online, how can you spread awareness and add to the conversation with your customers?
31st October – Halloween
November – Movember
5th November – Guy Fawkes Night
11th November – Remembrance Day
14th November – Remembrance Sunday
25th November – Thanksgiving
26th – 30th November – Black Friday/Cyber Monday – Possibly the biggest ecommerce event of the year, Cyber weekend is the opportunity to promote your business, along with the rest of the digital world! You could run a new offer each day across the weekend or just have a blanket discount on certain products over the 4 days – check out our other blogs for some dedicated Black Friday and Cyber Monday ecommerce guides
December – Christmas Party Season 
5th December – Small Business Saturday – If you're an independent business, now is the time to promote it! There's been a big drive towards smaller companies especially in the last year, so make sure your customers know that they're supporting a small, local independent when they shop with you
14th December – Christmas Jumper Day
24th December – Christmas Eve – Lots of online sales start on Christmas Eve now so this might be a good time to maximise on any sales before the big day itself
25th December – Christmas Day
26th December – Boxing Day
31st December – New Year's Eve
Does your marketing strategy need an extra boost this year? IGOO offers a range of digital services including social media strategy, SEO, email marketing and copywriting to maximise your reach and make sure your customers convert.
Get in touch for more info on how we could help take your ecommerce offering to the next level.