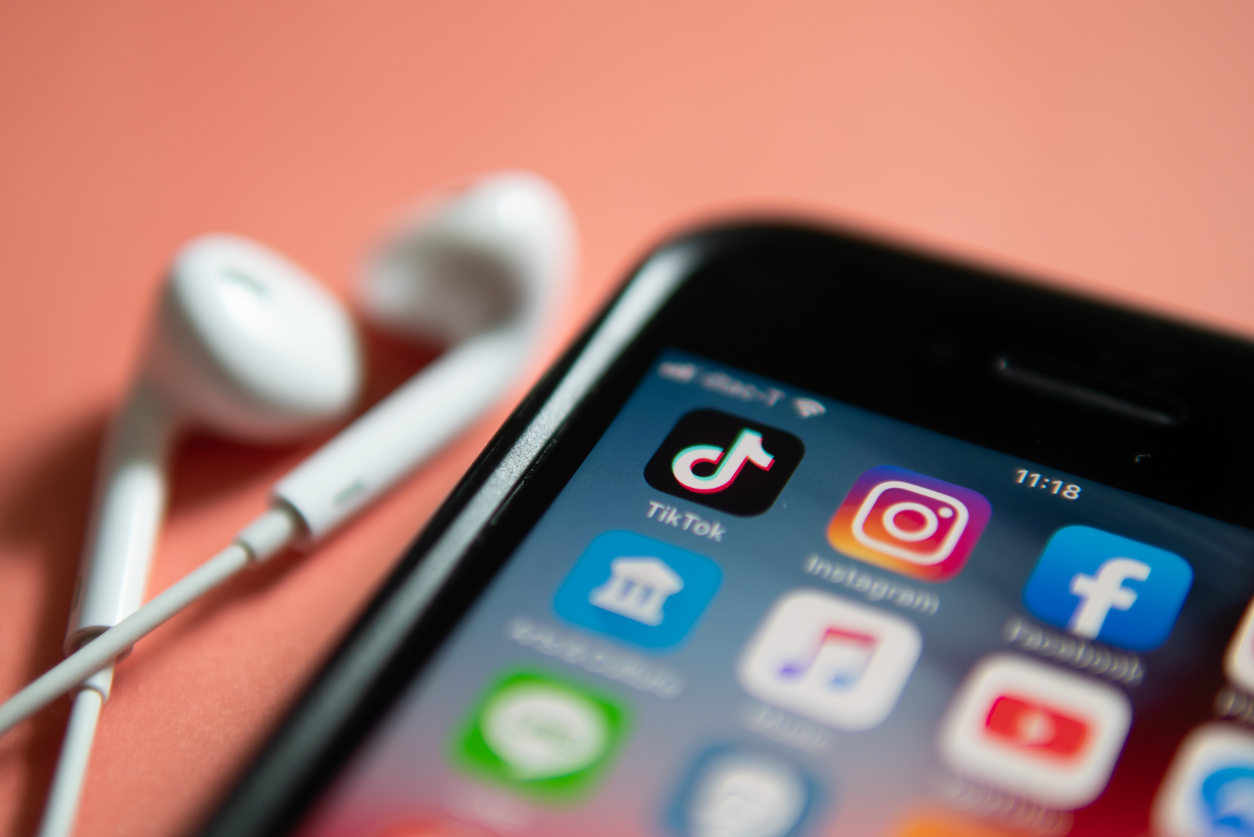 Since launching in China in 2016, TikTok, the viral video platform, has gone from strength to strength. The app has been downloaded over 2 billion times, and boasts over 689 million monthly users internationally, with each of those users spending an average of 46 minutes on TikTok each day.
The concept is simple: the app allows users to create 15 second videos, soundtracked by music clips. With a mixture of viral dances, challenges, impressions, hashtags, popular song mashups and much more, its popularity has exploded with Generation Z and Millennials alike.
It's rapidly surpassed many of the other social media giants due to its quick and simple nature, and is currently the 7th most-used social platform in the world; whereas Instagram has typically been used to portray a perfected image on a uniformed grid complete with filtered stories, TikTok is a lot more stripped back and raw.
Do I need to set up a TikTok for my brand?
According to a poll by the social scheduling platform, Hootsuite, 56% of businesses said that TikTok didn't suit their brand image. Of those asked, 28% said that they were not using the app as part of their marketing strategy just yet (but never say never), and a combined 15% said either they're already using TikTok or they had plans to this year.
Last year, TikTok introduced business access, with pro accounts available for both brands and creators. If you're currently undecided as to whether it would be a good weapon to add to your marketing arsenal, as a first step, it's worth setting up a business account for your brand. Here, you can add more information to your profile, claim your brand handle, be in the running for verification (unlike other networks, you can't apply to gain your blue tick – instead the app will approach you), and access more comprehensive analytics reporting, compared with an individual account.
If you're wanting to run adverts on the platform, you'll need to set this up separately under the ads manager. Great news if you're using Shopify to power your ecommerce platform too as they have now integrated with TikTok to create shoppable ads, direct from the dashboard.
Where do I start when it comes to strategy?
TikTok works in a very different way to the other main social networks (we're referring to Facebook, Instagram and Twitter in this instance) so it's important that you develop a strategy that utilises the platform to its full potential. The good news is that there are certain marketing tactics that will always serve you well.
Here's a mixture of both approaches to get you started:
TikTok's unique features are its main strength – You might know it for its viral songs and popular dances but it also puts a lot of weight on the use of hashtags and trending content so spend some time exploring the app and getting to grips with some of its nuances. That way, you'll be able to create different content for each platform and know which type will perform best, where
Understand the TikTok algorithm – Previously, this has all been kept under wraps but the platform recently shared how it shows content to users and it's vital that you use this to your advantage. It's a mix of 1. user interaction (how users engage, whether your videos are watched for the full length etc.) 2. how relevant the video is – which hashtags are used, is it similar to what they're already watching? and 3. users' location, language and their device type
Know your audience – This is vital whichever marketing avenue you choose to go down but it's especially important to know where your audience are online when it comes to ecommerce. If your target audience are unlikely to use TikTok, there is little point in putting budget and time into the platform, but if you could reach new customers this way, it's worth being present
Refine business goals – What do you want from your TikTok marketing? Is it to increase conversions, gain new audiences, be visible in the new online space or to provide a service ie. education or customer support?
Scope out the competition – If your competitors are already using TikTok, then you need to up your game, quick! Due to the viral nature of the platform, brands can gain popularity overnight so it's important that you're not left behind
Weigh the benefits up against your other platforms – If you're more confident with curated Instagram shots and carefully crafted tweets, then you might be better to spend your precious advertising time and money on your existing profiles, rather than branching out and diluting your offering
Find out what the app can do for you – Previously, it would have been daunting to embark on creating video content but with features including TikTok Video Editor you can shoot and edit within the app itself. They've also introduced the Business Creative Hub, which aims to provide inspiration, help you to learn best practice techniques and how to maximise your time on the platform so it's worth taking advantage of the resources available!
How does this apply to my ecommerce store?
Consider collaboration – TikTok has developed the TikTok creator marketplace, and if you apply to join (and are accepted) you will be able to see individual metrics associated with any given influencer. If you have someone specific in mind, this could make your collaboration more cost effective and efficient
Explore the different types of ads available – From in-feed videos which appear natively as users scroll, to brand takeovers, branded AR content and lead generation adverts, there's an option for whatever content you're wanting to create and customers you're wanting to reach
Direct traffic to your store – Similar to Instagram, you can now include a link in your bio directly back to your ecommerce store. This means that there's a direct connection to your products and customers, and gives you the opportunity to showcase particular products or brands on your site from the dashboard
Shopify x TikTok – As mentioned above, Shopify have partnered with TikTok, allowing you to integrate the social network directly from the ecommerce platform and seamlessly set up your adverts
#hashtags – If you sell branded products, you can easily hook onto existing content from other suppliers to make sure your store is being seen, plus hashtags are a surefire way to encourage user-generated content. The #tiktokmademebuyit hashtag exploded in popularity earlier this year with users showcasing their favourite Amazon purchases; this simple hashtag had over two billion views (as of April 2021) and proves that sometimes the simplest things do work
Follow trends – If there's a trending dance or challenge that naturally fits your brand, make sure you're creating content that tunes in
Don't sell, sell, sell – As with any marketing, it's important to not go in with the hard sell. Instead, make sure you're providing real value and blend branded content into an overall content strategy
What's next for TikTok and ecommerce?
TikTok knows that in order to keep content creators on their platform, they need to provide the opportunity for them to monetise their videos. All of these ideas have been in testing or live development in different parts of the world so it's worth keeping an eye out for when they're available globally:
The option for users to share links to products and earn affiliate commission on sales (similar to Instagram Stories)
The option for brands to showcase catalogs of their products
'Livestreamed' shopping – which will offer a digital version of traditional shopping channels, allowing users to buy products after seeing them featured by high profile TikTok creators