The Challenge
Established in 2011, Landscape World is a specialist family-run landscaping supplier located in Widnes with over 30 years' experience in the industry.
As well as selling a wide range of ethically sourced paving and aggregates online, they also boast of having one of the largest paving display areas in the North West, where customers are able to view their products.
Their existing Magento 1 website was built in 2015 and was nearing the June 2020 end of life date. It was due either an upgrade to Magento 2 or a rethink of their online strategy.
After working closely with the team at Landscape World, we decided a main objective for the website would be to solely focus on their own brand of high-quality landscaping products. We recommended Shopify over a Magento 2 migration as the best solution for growing the ecommerce side of the business.
Plus, when the world was hit by the Covid-19 lockdown, we realised that this could greatly impact what is traditionally a busy time of year for the client due to the display centre being closed. We knew from experience that we would be able to produce a new Shopify website in a much quicker timeframe by opting for this solution.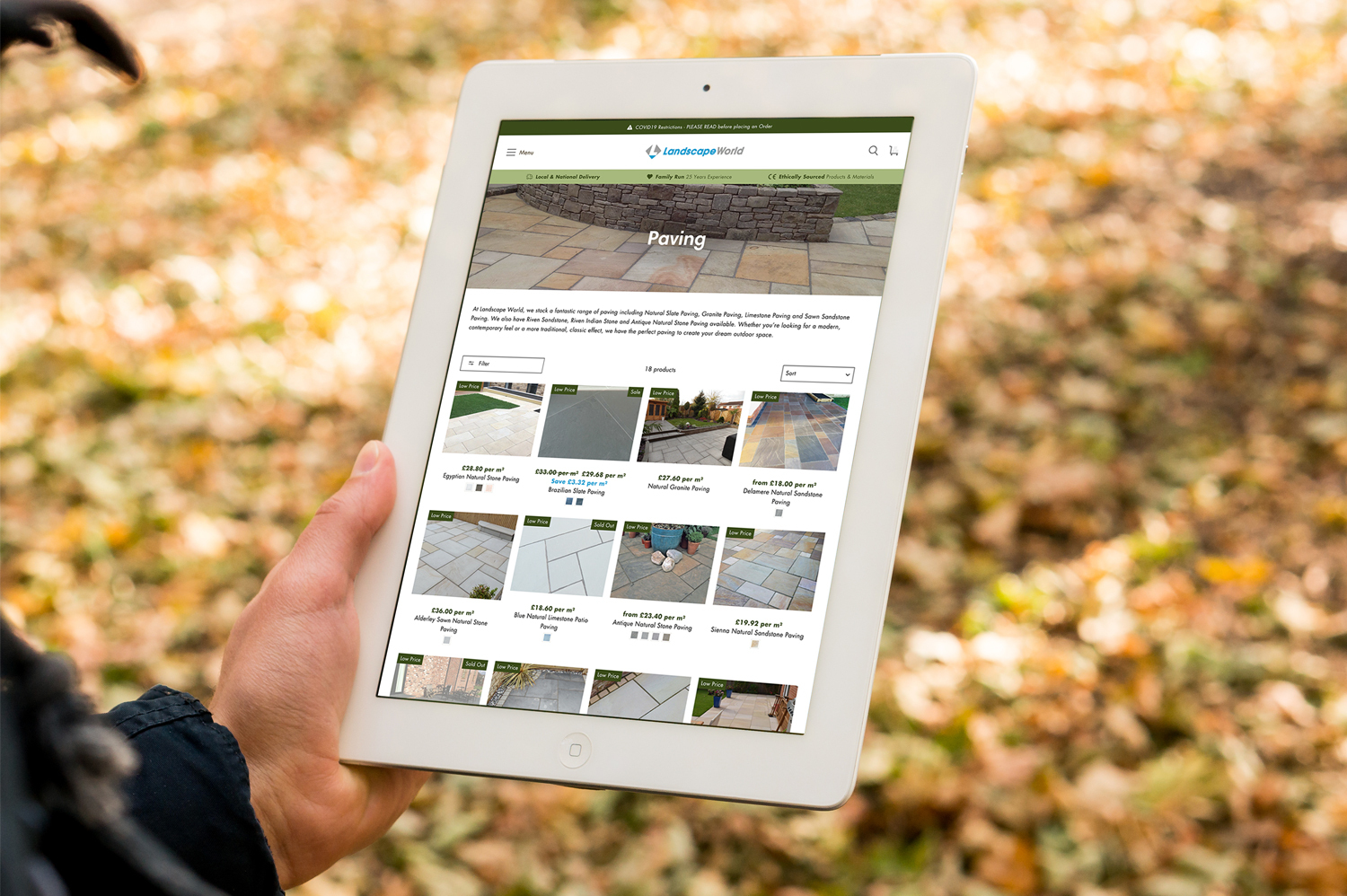 The Solution
After discussing the client's goals, objectives and analysing existing data, we began the project by mapping out and overhauling the current onsite navigation, followed by a full migration of core products and content from Magento 1.
We then started working on the essential functionality of providing local delivery to customers located within a 30 mile radius of the business, based on the delivery weight of the products in the cart. This involved the creation of complex shipping rules that can display a price based on the exact metre2, the overall delivery weight of the products selected, as well as a total price summary for the customer to review before adding their chosen selection to cart.
Our in-house Shopify developers coded specific elements to make the user experience more seamless, such as updating the product hierarchy to allow multiple elements like paving depth and product shade to be shown on one page as configurable products, as well as including logical cross-sell opportunities at the checkout.
We also incorporated extra features and flourishes such as multiple image views appearing on hover without leaving the category or product page, the ability to filter by product shade and product installation type and an embedded digital walkthrough of the paving display area – especially helpful whilst Covid-19 restrictions are in place.
Click and collect was enabled as a delivery option, allowing them to safely process orders and deliveries, and the number of accepted payment methods was increased to include all major debit and credit cards, Paypal Express and ApplePay.
The Result
The end result was a highly responsive, mobile optimised site that was presented over Zoom and delivered by the IGOO team working remotely within 4 weeks.
In the first month of going live with their new ecommerce website, Landscape World has seen their online sales increase by 1,388.89% and their ecommerce conversion rate increase by 831.14% when compared to the same period last year.
"We have been working closely with IGOO for 8 years now and have always been pleased with the service that they offer to us. When they explained to us about migrating from Magento to Shopify, we told them what we would like from our website. IGOO were very creative and informative, and designed a site that we are absolutely delighted with. We look forward to our continuing relationship with them."

Chris Price