Want to know who your future husband is, or which Disney character you are? If you're not using Instagram's latest augmented reality filters to find out, then you're doing it all wrong!
When we say Instagram "filters", we're not talking about Lark, Clarendon or Lo-fi – we're referring to filters made using Facebook's Spark AR Studio. These are used on Facebook Stories – or more commonly – Instagram Stories.
Although we're only one month into 2020, this year has already seen a huge rise in the number of Instagram filters being created and used by individuals and businesses.
If your brand uses Instagram to engage with customers, you're probably aware of this latest trend. If not, then it's certainly worth looking into — over 500 million people use Instagram Stories every single day, and one third of the most viewed Stories are from businesses.
How Do Instagram AR Filters Work?
From a user's perspective, it's pretty simple. If someone on your Stories feed has used a filter, all you need to do is tap on it and select 'try it' or save it to your filters; you can also browse filters in the 'Effect Gallery'.
Once you've picked one, point the camera at your face and the filter will generate a random selection for you. Many people choose to share their result – their followers then use the filter, and a viral sensation is born!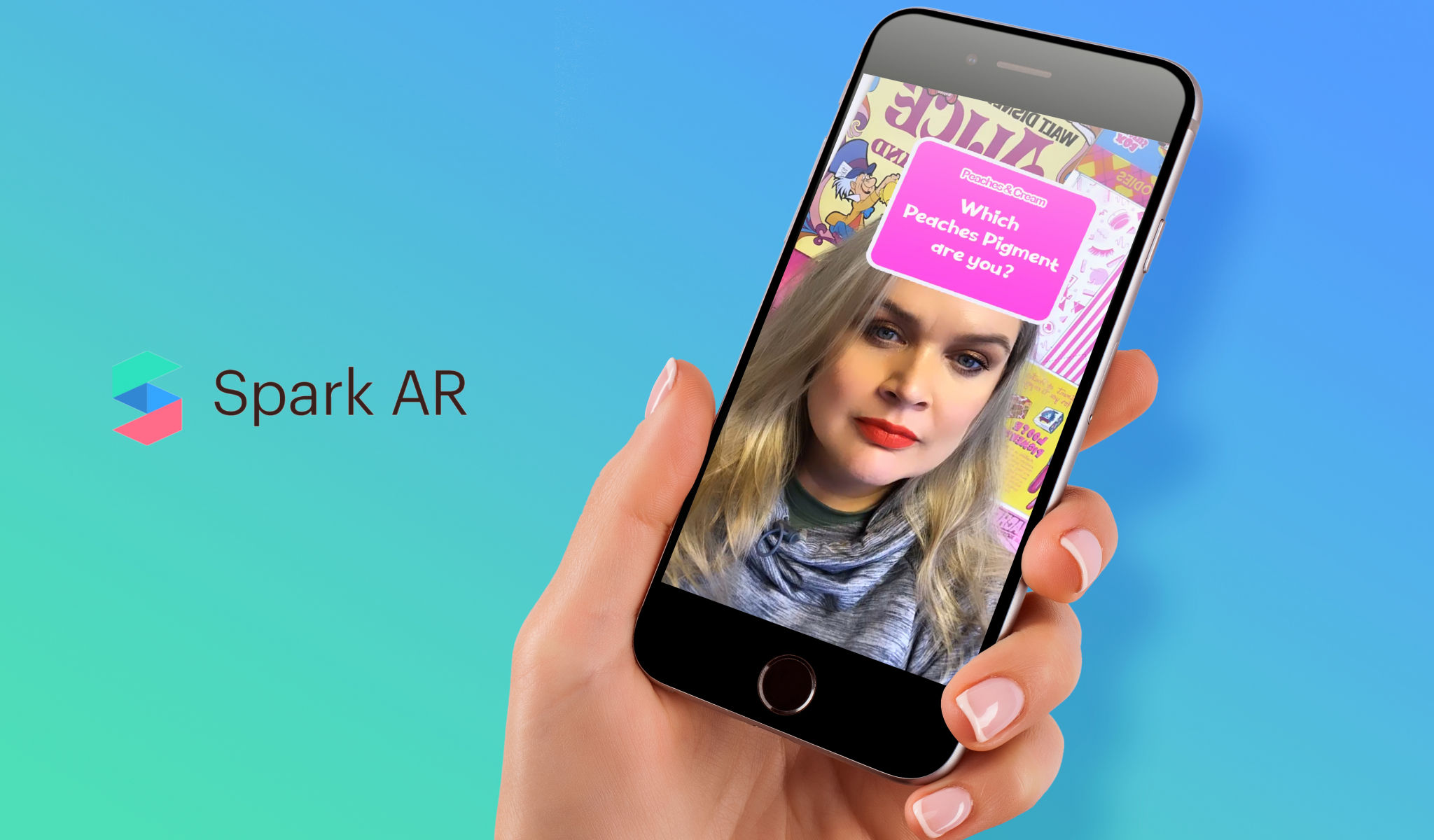 Tried and Tested: Peaches & Cream
As soon as we saw this trend, we knew we had to give it a try! Peaches & Cream, a long-term client of IGOO, instantly came to mind.
The Liverpool-based business is one of the top independent makeup brands in the UK. And with over 420K Instagram followers, we believed they'd be the perfect brand to benefit from an AR Instagram filter.
Why? Other than their large Instagram following, they:
Are a fun, playful and interactive brand
Have makeup products that could be effectively advertised using a filter
Have Instagram followers who regularly show off Peaches' makeup products in their own Stories
Our Design
Amée (one of IGOO's designers) worked with Peaches & Cream to create a custom AR filter called 'Pigment Addict'.
Eyeshadow pigments are one of Peaches' bestsellers, and they're also available in a range of different colours. With this in mind, we thought they'd be the perfect products to go in the filter.
The idea was to give Peaches' fans a chance to see which 'pigment they are'. We used a range of the brand's most popular pigments, including Gatsby, Current Mood, Mermaze and more.
An Overview of How Amée Did It
Creating the design elements:
Amée gathered high-res images of all of the chosen pigments, branding them with the Peaches logo and colour scheme. She then made a sequence with them using Photoshop.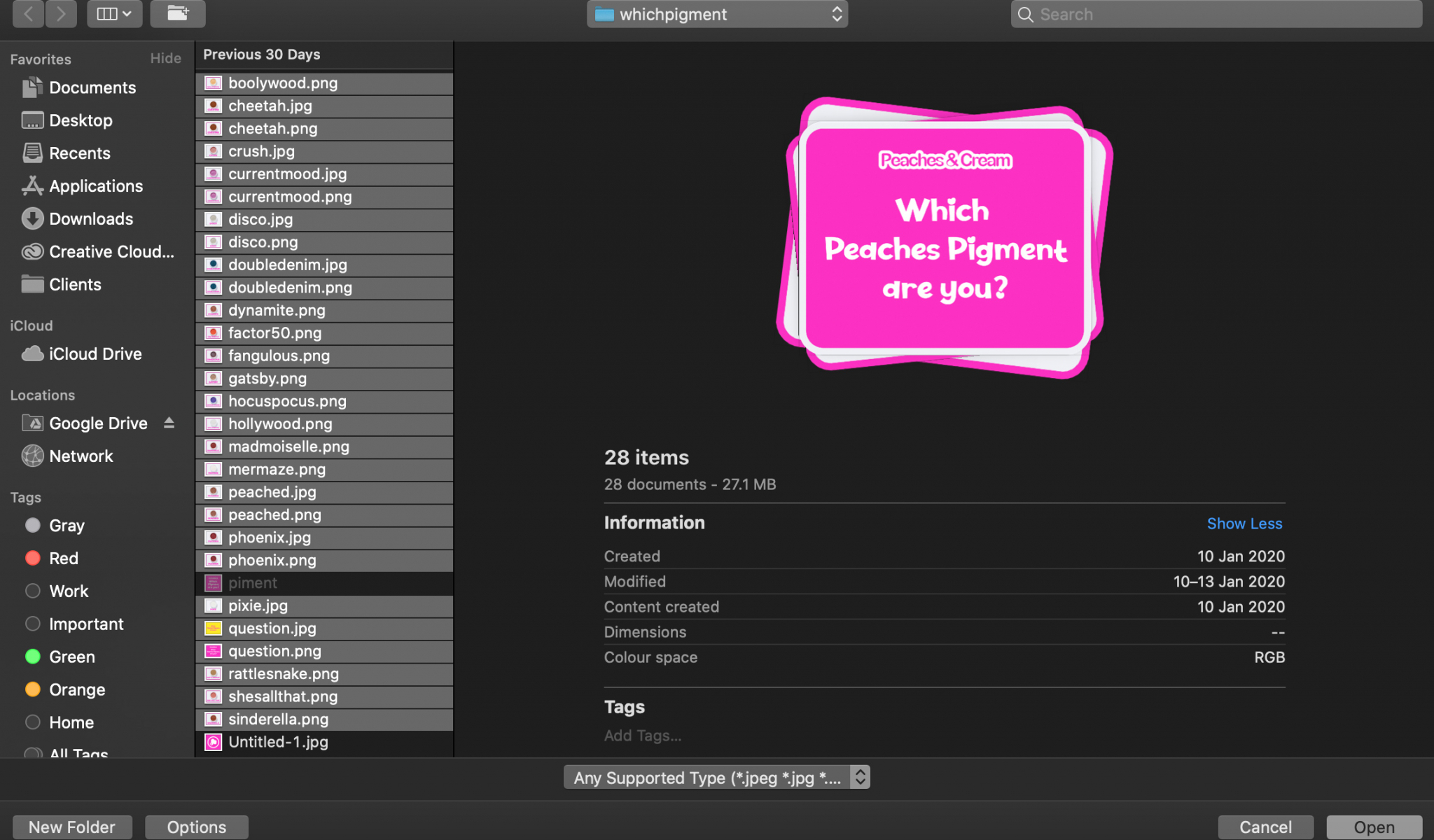 Using the face tracker on Spark AR:
The next stage involved heading over to Facebook's Spark AR platform and setting up the filter. Amée viewed her face through her computer's webcam, and linked the graphics using Spark AR's face tracker. As the tracker also allows you to add textures to the face, Amée used the 'retouch' texture which smoothes out the skin.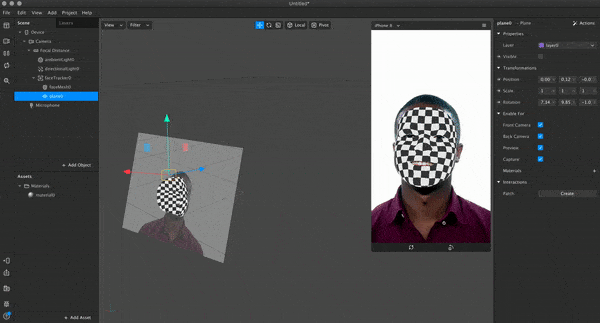 Linking the person with the filter:
She then attached a plane (or 'picture card') to the face tracker which you can reposition above the head. This was then linked to the animation sequence.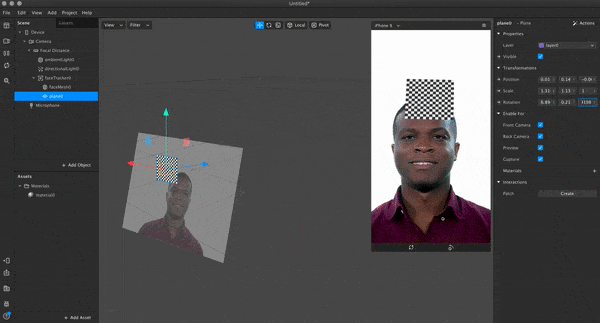 Using the patch editor:
Amée then used the patch editor to make the animation interactive. This means that when the person using the filter hits the record button, they will be randomly 'assigned' an image from the sequence after 5 seconds.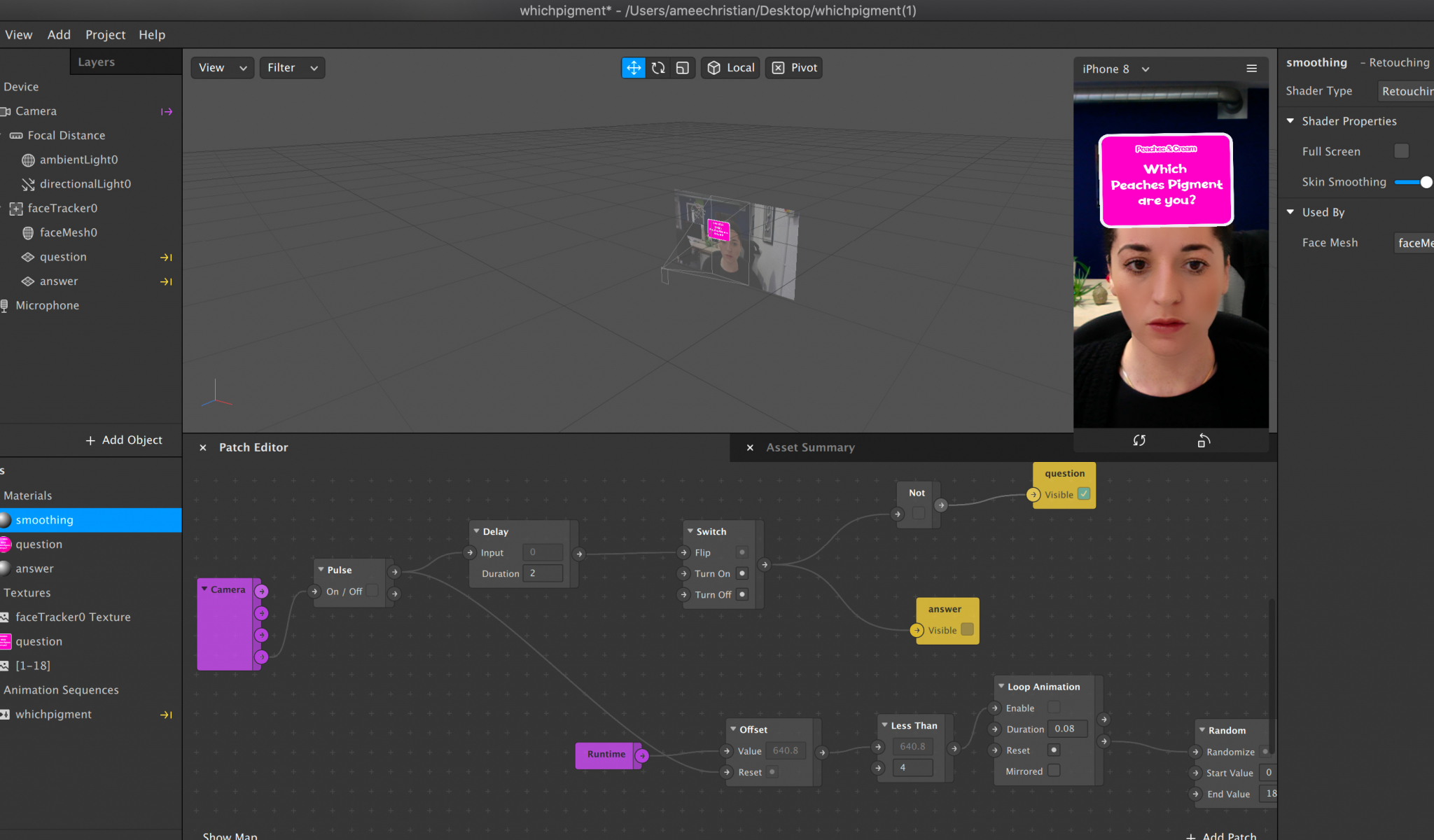 Making final adjustments and testing it out:
After creating the animation, Amée then tried out the new Pigment Addict filter on Instagram. If Spark AR is linked to your Facebook account, you can test it directly on the social media platform. You can also generate a preview link which can be sent out to co-workers and clients easily.
Publishing the effect:
Once Amée and the client were happy with the effect, it was submitted to Spark AR Hub to be approved and published!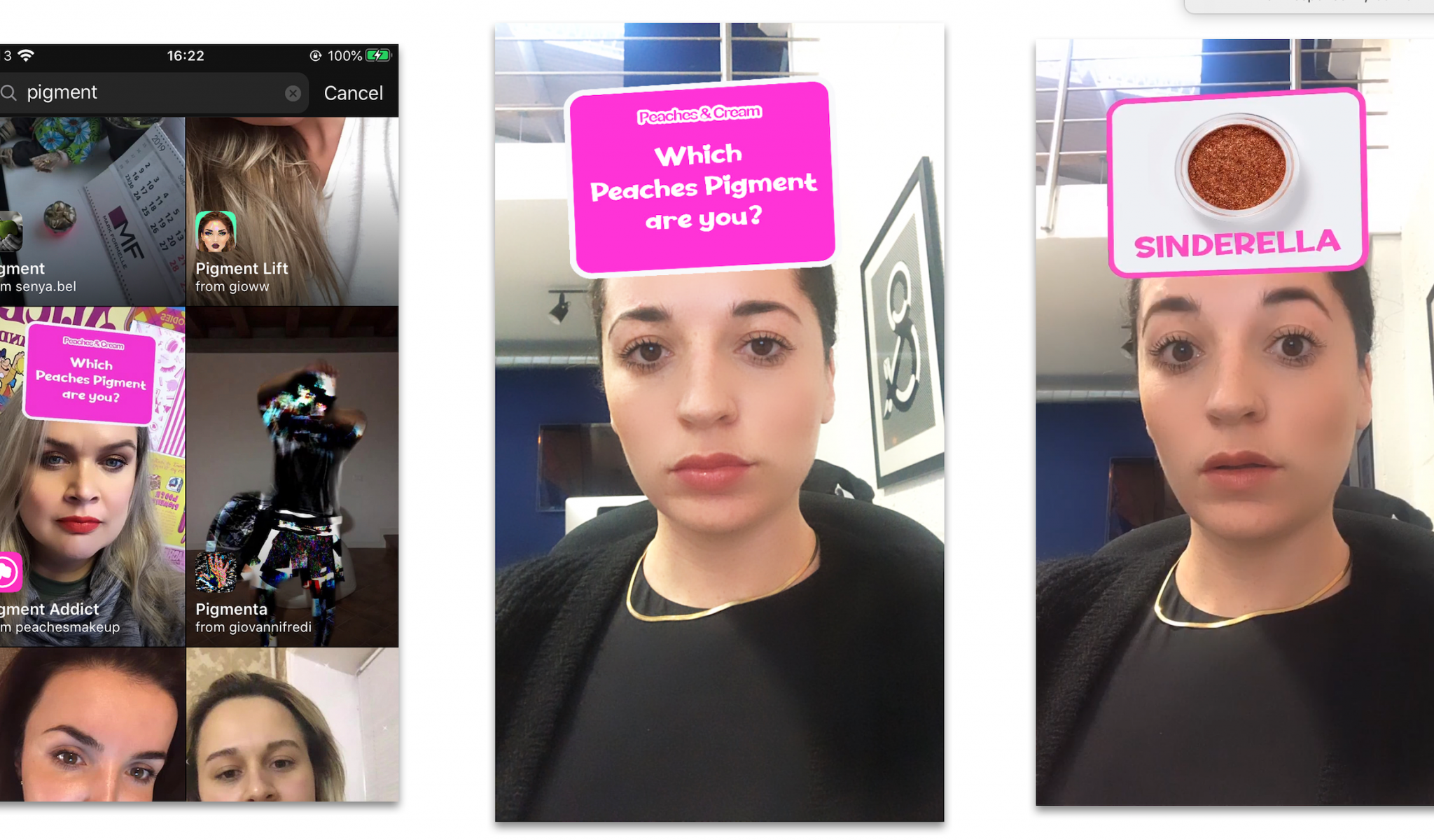 The Result?
Peaches and Cream followers loved it. As well as fans who regularly engage with the page, it was used and shared by new faces too.
Since it was launched at the beginning of January, the filter has been:
Used nearly 15,000 times
Shared on Instagram Stories almost 600 times
Seen on at least 120,000 occasions
Although there's no way of telling whether the filter led to a direct increase in sales, it was undoubtedly a fantastic tool for brand awareness.
What Else is Being Done?
Other social networks have been jumping on board with this type of software too, especially Pinterest. They've set up a new smart camera known as 'Lens,' which allows users to virtually try on makeup products from top beauty brands.
L'Oreal were quick to utilise the platform for its new 'Try On' feature. Other brands have also started to push products through the tool, including Sephora, bareMinerals, Neutrogena and Estée Lauder.
Want Help With Your Social Channels? Get in Touch
This particular example just goes to show the importance of keeping up with the latest marketing and social media trends.
If you like what we do and are keen for us to help your business, we're always open for a chat! Contact us today, and we'll get back to you as quickly as possible.